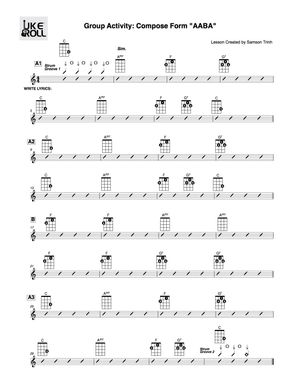 Download Free Lesson Packet: Compose Form AABA

Lesson: Here's a fun group activity combining language arts and math to compose your own 32 bar Form AABA song on ukulele! 
Target Grade/Subject: 4th-12th Grade Music 
Essential questions or objectives: 
Who are George and Ira Gershwin?
How many measures are there in musical Form AABA? 
What instruments make up the Rhythm Section? 
Concepts or skills that provide the purpose for this lesson: 
Knowledge of multiplication, fractions, vocabulary, grammar, poetry and traditional rhyme schemes. 

VA SOL – 4th GRADE (Language Arts) 
4.1: The student will use effective oral communication skills in a variety of settings. 
Contribute to group discussions. 
Seek the ideas and opinions of others. 
4.6: The student will read a variety of poetry. 
Describe the rhyme scheme. 
Write rhymed, unrhymed, and patterned poetry. 

VA SOL – 4th GRADE (Mathematics)
4.4 = The student will: 
Estimate sums, differences, products, and quotients of whole numbers. 
Add, subtract, and multiply whole numbers. 
Divide whole numbers, finding quotients with and without remainders. 
Solve single-step and multistep addition, subtraction, and multiplication problems with whole numbers.
Video Ex 1:
The Gershwin's "I Got Rhythm" with Grey Garrett on vocal and Samson Trinh on ukulele.
Video Ex 2:
Form AABA composed and performed by teachers at Uke 'n' Roll's workshop hosted by
University of Richmond's Partners in the Arts
summer program.
Download Free Lesson Packet: Compose Form AABA